On average weight loss surgeries in Mexico vary from $4,000 to $9,000 USD, with gastric sleeve surgery costing an average of $4,100 to $9,500 in Mexico. Gastric bypass surgery and Mini gastric bypass surgery varies from $5,500 to $11,000 on average. Gastric balloon costs an average of $4,000.  
Costs will vary based on the city in Mexico and the surgeon you choose. Compare prices now by visiting our page on bariatric surgeons.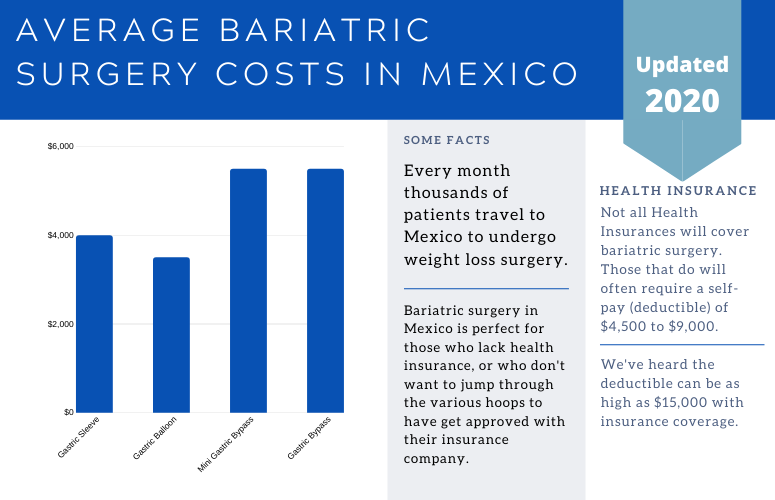 The pieces of the bariatric surgery normally differ depending on a few factors that may readily influence the cost of the whole procedure which include:
The type of procedure being performed
The hospital the procedure is being done
The facility the procedure is being performed
The bariatric physician
The city that the facility/hospital/ bariatric physician is based.
Mexico is one of the places where bariatric surgery has been known to be very prevalent and cheap as well. As compared to many places, people have opted to go and have the various procedures done in the country. Below is a table with the different price ranges of the various countries and the multiple procedures against the price per surgery.
| | | | | |
| --- | --- | --- | --- | --- |
|   | The United States | Canada | Mexico | United Kingdom |
| Gastric Sleeve Surgery | $19,100 | $15,425 | $4,100 | $14,200 |
| Gastric Bypass Surgery | $25,000 | $15,800 | $6,299 | $14,200 |
| Gastric Balloon | $8,500 | N/A | $4,500 | $5,050 |
| Duodenal Switch | $27,000 | N/A | $8,000 | N/A |
| Gastric Banding Surgery | $15,000 | $14,000 | $5,500 | $7,400 |
Depending on one's budget one is then able to undergo the various surgery/surgeries that they wish to undergo to enjoy the numerous benefits that can come along with it. Various bariatric clinics/ facilities have been able to partner with other bariatric specialists in Mexico, hence, slashing the prices that one was to incur if they had opted to do the surgery anywhere else. At the end of the whole experience, one can get an all-inclusive package at a very affordable rate. Most of the credible companies have been known not to go back on their word about the packages that they offer, and this may be a reason as to why some Bariatric clinics are more expensive than others yet credible and dependable.
Some packages that one may get include medical tourism insurance which means that one is covered medically even after they cross the border just in case something happens to them while they are away from Mexico. Some companies may provide the services, but they may also admit that once one crosses the border, they are no longer eligible for the coverage. Hence, the reason as to why one should be very careful when choosing a package. Doing prior research on the company and looking at reviews is an excellent way to also know the companies to get acquainted with best.
Some other things that may be included in the various packages that one may get may consist of:
Preoperative tests
Transport to/from the airport to the specific are, e.g., Cancun or Tijuana airport facility
Hotel/ recovery house stay
Take-home pain and antibiotic medication
Surgeon cost
Gastrointestinal leak tests
Hospital/facility costs

Just as a disclaimer, some bariatric companies typically claim to have an all-inclusive price that they will be able to work with and give the services mentioned, however, they may end up loading one with some hidden fees for various things such as the take-home medication, having a companion or even transportation. Hence, one is typically warned to make sure that they actually will be able to provide the services which they promised. Transparency should not be something that the companies should hinder the client from having.
Additional Costs of Mexico Bariatric Surgery
A very common practice of weight loss surgery in Mexico includes to add extra fees instance to those who have a certain BMI, or previous bariatric surgeries.
Common Fees Include:
High BMI Fee (Typically over 50)
Bariatric Revisional Fee
Hiatal Hernia Fee
Extra Medication Fee
Gallbladder Removal Fee
Typical Payment Options:
Cash
Credit Card
Financing Companies
HSA/FSA (Sometimes)
Self-Pay Bariatric Surgery Cost Comparison
There are five different bariatric surgeries that one may be able to go through as one is allowed to choose the one that they feel is best suited for them. At times, the bariatric surgeons may end up giving one option and explaining to them the best choice depending on the various individuals that they encounter.
Gastric Sleeve Self-Pay Cost
The procedure includes typically the removal of a large chunk of the stomach which is an efficient way of treating severe obesity. Once the procedure has been done, one needs to understand that it is entirely irreversible. Due to this fact, however, one then can get long-lasting results which then makes it a good investment. This is the most affordable procedure that may be offered by a bariatric specialist as compared to the rest.
Some insurances have been known to cover the gastric sleeve procedure that may end up costing just $4,100 with insurance. This cost is generally in the form of deductible which one is expected to pay. Some areas that the payment can cater for include surgeon's fee, hospital fee, preoperative lab and x-rays and hospital fee. Nevertheless, these are not the only expenses that one will incur their weight loss journey. The $4,100 only applies to the surgery itself and nothing else. Some extra costs that may come in may include:
Nutritional supplements such as vitamins, proteins, and minerals
Nutritionist appointments
Gym membership
New clothes as one lose weight
Cosmetic surgery to remove the excess skin once one has been able to lose the excess weight which is entirely optional
If an individual does not have insurance, then the average cost that they may have to incur is approximately $16,000- $20,000. This is the typically what one is to expect if they are around Canada or the United States. No definite price can quickly be given as gastric sleeve without insurance may vary due to various factors surrounding it which may include:
Financing plans
Insurance
Whether inpatient or outpatient
The hospital of choice
The surgeon of choice
Location
Additional hotel nights purchased
What insurance policy covers one has if they don't have insurance
Airfare.
In Mexico however, gastric sleeve surgeries have been found to be very affordable as they may end up just costing a fraction of what other states are offering for the operation. One may end up only spending approximately $4,500- $6,000 on the whole surgery package and one will be able to get other services within the amount as well such as airfare, accommodation, medication for taking home, among many other services. One just needs to get an excellent bariatric company that is credible and will be able to uphold their word.
Is Gastric Sleeve Worth It Financially?
A most individual who opts to get a bariatric surgery commonly are known to suffer from obesity-related illnesses such as high blood pressure, sleep apnea, type 2 diabetes, heart diseases just to mention but a few. Managing such conditions has proven to be very costly as one has to get frequent doctor's visits and also buy medication for the various ailments. However, with gastric sleeve, one can lose weight which then can make one have minor occurrences of these obesity-related illnesses.
Bariatric surgery is typically known to pay for itself after 2-4 years. About gastric sleeve, one may then be able to have the returns in less than two years. This is because one can save up on money that they would have used in treating their various diseases that are associated with obesity. From a financial point of view, having a gastric sleeve done is an excellent investment. This goes beyond even finances, as one can feel good about themselves mentally, physically and even psychologically which goes a long way in improving one's recovery process and have a positive attitude towards the whole treatment.
One study suggested that, "After controlling for observable patient characteristics, we estimated all costs to have been recouped within 2 years for laparoscopic surgery patients and within 4 years for open surgery patients." Those figures are with costs ranging from, "$17,000 to $26,000."
With self-pay prices in Mexico less than $5,000 USD, you expect the procedure to pay for itself within a year. 
Gastric Bypass Self-Pay Cost in Mexico
Gastric surgery also is known as the quintessential weight-loss surgery is covered by insurance, Medicaid, and Medicare. The bariatric procedure helps one lose weight as it changes how one's stomach and small intestines manage the food that one consumes. The bariatric surgery has typically very minimal invasion, and it has proven to be able to reverse various maladies such as high blood pressure, back pain, sleep apnea, depression, diabetes, and hypertension just to mention but a few. This form of surgery has been said to have better results as compared to gastric sleeve and lap band.
In Mexico, the cost of having a bariatric surgery specifically the gastric bypass usually is very fair as compared to other places. One may end up paying approximately $5,500-$9000. Prices may end up rising about an individual's BMI level and previous abdominal surgeries. Also, the costs may also vary due to the location of the Mexican surgeon, the company, the facility among many other factors. Hence, one can get the best services in Mexico at very affordable rates at the end of the day.
Gastric Balloon Self-Pay Cost
The procedure has proven to be very useful, and it has been approved by the FDA hence it is very safe. At times, it may end up not being cover by insurance. Most of the time, individuals are worried about the fact that they may be making permanent changes to their bodies and this may be concerning. Hence, one may opt to have the gastric balloon as they don't have to under any surgery to get it. It is inserted orally into the stomach, and the primary function usually is to reduce the amount of space in one's stomach hence preventing overeating for six months. Most individuals who can maintain a healthy diet and exercise regularly go for this form of bariatric treatment as it is an excellent way to help them get started. This is also a very viable option for individuals who do not qualify for any other form of weight loss surgery.
Gastric Balloon Cost in Mexico
The bariatric procedure is an efficient and safe procedure that needs no anesthesia and no form of surgery to be done. This is one of the reasons that some individuals who are very much budget conscious typically prefer to get the intragastric balloon procedure done in Mexico. The process usually may cost approximately $3,500 which is inclusive of the removal of the balloon after a period of either six or twelve months. One is then able to afford it. However, it may prove to be expensive if one is just looking for temporary weight loss as they have to do it after every six to twelve months which may prove to be quite costly. Is still is practical and very safe as the gastric balloon is similar in other parts of the world since it is made in the same way as the rest. But one still needs to get a qualified bariatric surgeon to do the procedure so as not to affect any other organs in the body or bring about any complications that may arise. At times insurance may also cover the cost of the procedure for some individuals as well making it even cheaper.
Gastric Banding Self Pay Cost
The procedure is also known as lap band or realize banding system that involves the reduction of the capacity of the stomach and hence, reducing the amount of calorie intake and satiety for any individual. An adjustable silicone ring is normally placed around the upper part of the stomach which then makes food go down into one's lower part of the stomach at a prolonged rate. This then reduces the rate at which there is food intake, and this may then lead to subsequent weight loss. The silicone band that is placed into one's stomach normally has a plastic tube that extends just beneath the skin, and through it, sterile water may be introduced. The process of injecting the sterile water into the band usually is to make the band tighter. Hence, the band may readily be adjusted which is a big thing if it makes one feel uncomfortable. This may also help in reducing the side effects and improve one's weight loss.
About the cost of the bariatric surgery in Mexico, the rates usually are very affordable as compared to the rest of the places that may opt to have the procedure done. The cost may range from, $5,000-$7000. However, one needs to know that the number of bariatric surgeons performing the procedure has been able to reduce over the years as the procedure is not as effective as one would expect it to be about weight loss. Most of the bariatric surgeons are actually in preference of the gastric sleeve as compared to the gastric banding about weight loss.
Duodenal Switch Self-Pay Cost
The procedure is also known as a biliopancreatic diversion-duodenal switch (BPD-DS) that is the most expensive and highly sophisticated of bariatric surgery. About weight loss, it has proven to be the most effective process and also it has helped in the improvement of one's health form various maladies such as diabetes, high blood pressure just to mention but a few. The high cost of the process usually is due to the very efficient and effective weight loss that the patient will be able to get from the whole procedure including additional advantage such as the possibility of developing hypertension, osteoarthritis, sleep apnea, diabetes mellitus just to mention but a few. Other factors that may contribute to the increased expense brought about by the surgery may include the time that is consumed during the operation, the complexity for the surgery and the need of a very highly skilled surgeon who will be able to perform the surgery meticulously.
The cost may vary with location, the surgeon, the facility and the presence of underlying conditions that may be present which may have to be taken into consideration before one gets the surgery done. In Mexico, the procedure may end up costing $8000, but one may end up paying extra for the surgeons' capability and experience. This is because the whole process is very complicated and one may need to get the very best of the best to be able to get the very best attention about the bariatric surgery.
Conclusion
Losing weight for most people is never an easy thing, and this may then result in them having to opt for other methods that will help them with the process of losing weight. Some have resulted in changing their diets; some have decided to go to the gym while some have chosen to have surgery done to help in reducing weight. However, one needs to understand that weight loss surgeries usually are costly and not everyone can afford it. This then makes individuals look for the next best thing that they could find, and that is Bariatric surgery.
The various bariatric surgery procedures have proven to help in causing weight loss as it is known to assist in the reduction of the amount of food that the stomach can hold, which then leads to malabsorption of nutrients or even a combination of both malabsorption and gastric restriction. Also, bariatric procedures have also been found to bring about a change in hormones as well. Most of the weight loss surgeries have been able to be performed using minimally invasive techniques, i.e., laparoscopic surgery. 
If Mexico bariatric surgery is for you, it's important to compare the best bariatric surgeons and choose a surgeon you feel the most comfortable with.