Go Light Bariatrics bariatric center is based in Tijuana, Mexico. Dr. Francisco Zavalza founded it in 2003, boasting of over three thousand successful procedures since then. The doctor and his able team of surgeons have specialized in bariatric surgery for more than ten years. Go Light Bariatrics patients uses the Florence Hospital for bariatric surgery.
Weight Loss Surgeries By Go Light Bariatric
Gastric Sleeve Surgery – This procedure reduces the stomach size and is preferred as an alternative to gastric bypass surgeries. Some people refer to this operation as greater curvature gastrectomy, gastric reduction, partial gastrectomy, or vertical gastrectomy. By getting rid of up to eighty-five percent of a patient's stomach fat, this procedure proves to be very successful in helping weight regulation for patients suffering from obesity. This system is considered a lifesaver for people who are battling weight loss issues and ailments. It is a permanent procedure meaning that it cannot be reversed. This is the most popular weight loss surgery in the entire world, maybe because of its high success rate. The surgeons performing this surgery are well equipped with the knowledge and skills that can help them complete this procedure in a laparoscopic way.
Gastric Bypass Surgery – This surgical procedure is sometimes referred to as Roux-en-Y. It has been proved o be one of the most successful procedures concerning treating morbid obesity. Morbid obesity is signified by symptoms such as sleep apnea, cardiovascular diseases, and diabetes type 2. This laparoscopic procedure is reversible. This method is popular with patients who seek to have immediate post operation weight loss results
Mini Gastric Bypass Surgery – This malabsorptive and restrictive procedure works just as the same as a gastric bypass surgery. It differs from gastric bypass concerning less time spent on the operation and risk.
Revision Surgery – This service is exclusive to persons who have undergone a weight loss surgery that has caused a decline in weight they lose. If you fall into this bracket, then you are viable for this surgery.
Reasons Why You Should Choose Go Light Bariatric
Fully equipped intensive care unit
The staff monitors the health of the patient from the pickup point to the drop-off time.
They have a free post and pre-operation consultations to their patients regarding the steps of the procedure and its success. In addition to this, they provide information regarding post-op diets and regimens to help the patient maintain their ideal weight.
The fully functional hospital that is safe and well equipped to handle any situation. The environment is sterile and calm enough to support speedy recovery after surgeries
Twenty-four-hour care by nurses to make sure that the patients have an aid at any time of the day and night
They offer post-bariatric plastic surgery to help the patients achieve their body goals as fast as possible
They offer non-surgical facial rejuvenation procedures to help restore the skin's natural glow and youthfulness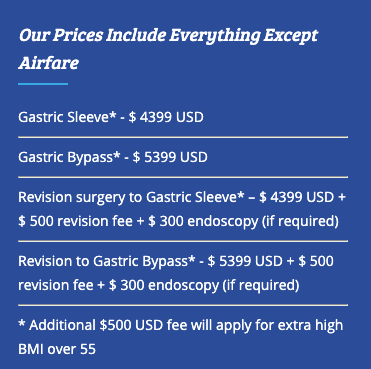 Cost of Go Light Bariatrics
Price: Gastric Sleeve from $4,399, Gastric Bypass from $5,399, Revisional Surgery from $4,899
High BMI over 55 will be $500, Endoscopy will incur a $300 Fee
For more information, visit their site on http://www.golightbariatrics.com/ or info@golightbariatrics.com. Alternatively, call them on 1-855-991-5300.
Address: 352 Apriocot Circle, Hayward, CA 94541
Phone: 855-991-5300, Outside US: 619-456-0052
Fax: 855-457-1400
Website: golightbariatrics.com