NOTE: Please note that A Lighter Me, a brand of Bravo Development Group, LLC, looks to no longer be active or in business. Since 1/1/2020 the website (http://alighterme.com) has been down and unable to be reached.
Update: A Lighter Me's former lead surgeon Dr. Elias Ortiz has created a new business, Elias Ortiz & Company, (eliasortiz.co) along with several former staff members of A Lighter Me. 
Following is a Previous Review, and Screenshots of A Lighter Me.
A Lighter Me (ALM) is a bariatric facility that is situated in Tijuana, Mexico, a few minutes from the San Diego airport and US border. It is the only weight loss surgery facility that has over fifteen years' experience in helping people lose weight successfully. They have a lot of successful surgery stories, and one of them is the founder, Sandy Johnston, who lost over 100 pounds.The hospital is a high-tech one; it is well equipped with all the amenities that are required in a big hospital and has many safety measures that are not found in other hospitals. It has three operating rooms, an in-house radiology department, a newly added ICU and an endoscopy suite in-house.
ALM has carefully chosen and screened surgeons who are experts in their field, have a genuine passion for their work and are dedicated to their patients. The chief surgeon of the A Lighter Me bariatric surgical team is Dr. Elias Ortiz, and his work exceeds his excellent surgical skills where together with other doctors they have been recognized for their contribution to minimally invasive surgery or weight loss surgery.
The other staff are weight loss surgery patients, so they do understand the weight loss surgery process, i.e., how difficult, confusing and time-consuming it is to research amongst the many options and get the best surgeon. They will advise you on which is the best surgery that suits you and your choice will be a team effort between you and your doctor. The experienced team will also take care of you during your stay in the hospital. You will be picked at the airport by their driver, be assisted to check-in, take you for sightseeing or shopping and also provide whatever else you may need. For any question you need to be answered, there is a patient advocate who is always there for you and will also assist you in recovery at the hospital and 4-star hotel accommodation. There is also an aftercare nurse to guide you in the weight loss journey.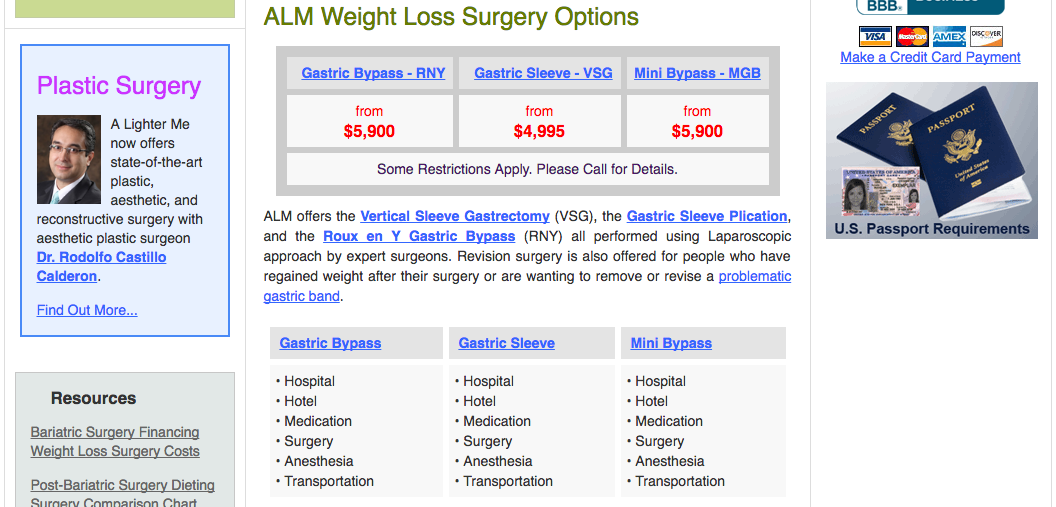 ALMs' promise to their patient is that your well-being is paramount, your comfort and service paramount, all information is kept confidential, and they will provide you with superior service, and they do their best to ensure that you have the best, most comfortable and worry-free experience.
ALM performs some bariatric surgeries, i.e., the Gastric Sleeve Plication, Vertical Sleeve Gastrostomy (VSG), Adjustable Gastric Band (Lap-Band) and the Roux-en Y Gastric Bypass (RNY) of which all are done using the laparoscopic approach. They also offer revision surgery for people who want to revise or remove a gastric band problem or for those who have regained their weight after surgery. Paying for bariatric surgery is expensive, so ALM links you with companies who will help in financing your surgery if you lack the cash or the insurance doesn't pay for your surgery.
Please note: If you look to leave a review you can do so only if you discuss the aspects of the former business. Any disparaging or fraudulent talk about A Lighter Me, will not be approved and thus deleted.