Tijuana Bariatric is a medical facility that offers excellent bariatric surgery in Tijuana, Mexico through a dedicated medical team and they ensure that they do provide the same quality care with the same standards of excellence and safety as in the US but at affordable rates. The location makes it a prime destination for medical tourism with the best-in-class bariatric surgeon and the most advanced surgical techniques.
The leading doctors at the Tijuana Bariatric Center are Dr. Fernando Garcia and Dr. David Vazquez, who hold the highest standards of excellence to ensure that you receive an outstanding care that will transform both your life and health.  Both are specialized, and they work side-by-side to provide safe and efficient outcomes, and each has performed thousands of bariatric and metabolic surgical treatments. Dr. Garcia is a former medical chief officer who has practiced for 20 years and is currently a professor of advanced laparoscopy at the University of Tijuana Medical.
Tijuana Bariatric offer high-quality services for gastric banding surgery, gastric bypass surgery, "mini" gastric bypass surgery, gastric sleeve surgery, gastric plication, duodenal switch surgery and bariatric surgery revisions. To reduce the risk of infection, post-operative discomfort, minimal scarring, and faster recoveries, these procedures are done laparoscopically, where a small incision is made, and fiber-optic video cameras are used to guide the surgery.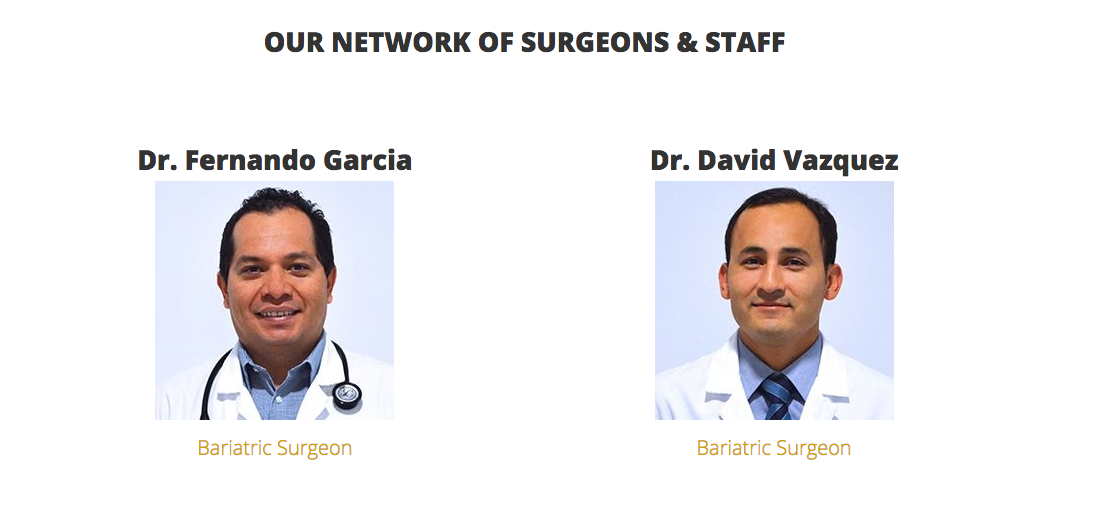 The medical team,  from the nurses to anesthesiologists ensures that you have a comfortable and safe environment before, during and after surgery.  They also have a dietician who creates a nutritional plan and a physical therapist who will help you regain mobility immediately after surgery.
Once you have booked surgery with your preferred surgeon, the medical team will handle your care from the airport on arrival to your departure. You will be transported by a driver from the airport to the hotel to relax, and then the following day you will go to the hospital and undergo some preoperative tests and meet the medical team.
Tijuana Bariatric offers a comprehensive medical tourism insurance to ensure the health and financial security for their patients.  A patient may select this option to pay for their medical bills, and it offers coverage for up to 160,000 MXN pesos which is against unforeseen events during your care and has zero deductibles and zero coinsurance.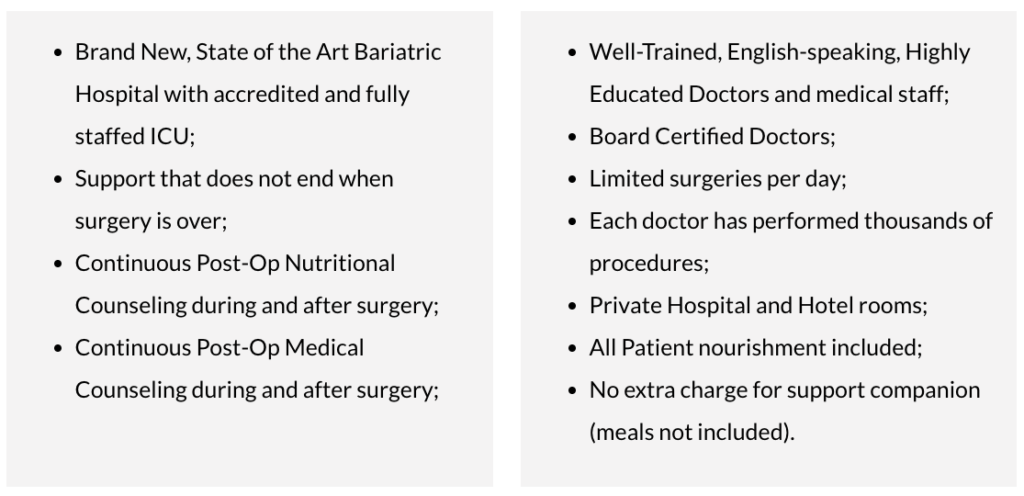 Tijuana Bariatric has an excellent postoperative care even when you have returned home. The patients do remain in contact via phone, email or Facebook for weeks to months with the doctor and nutritionists and they get to ask questions or send their progress updates.  The follow-up appointments will be scheduled depending on your results and preoperative lifestyle, and this can be for three, six months or a year after the surgery.
Tijuana has an online support group which offers support to weight loss patients, gives unbiased information about the surgery process, their doctors, hospital, and people who have undergone through the weight loss surgery.  The support group is private and closed by invitation only hence privacy is always maintained.
Surgeons
Dr. Fernando Garcia Govea – Bariatric Surgeons
Dr. Paola Velazco Gerardou – Bariatric Surgeons
Dr. Eduardo Ochoa – Plastic Surgeon
Costs
Price: Gastric Sleeve $4,680, Single-Incision Sleeve $5,720, Gastric Sleeve Plication $4,680, Gastric Bypass $6,550, Mini Gastric Bypass, $6,550, Duodenal Switch $8,000
Additional Fees include High BMI Fee – $535 49.1-59.9, 60-69.9 – $1,035, 70-79.9 – $1,535.
Previous Surgery Laparoscopic
$535 + surgery
Previous Surgery Open Incision
$1,035 + surgery
LAP-BAND Revision if band is still in place
(includes Endoscopy $300)
$835 + surgery
Previous Bypass Surgery Laparoscopic
$835 + surgery
Previous Bypass Surgery Open
$1,335 + surgery
Endoscopy
$300 + surgery
Upper GI Scan
$200 + surgery
LAP-BAND® Adjustments
$200 + surgery
Hepatitis B & C and HIV (in addition to surgical charges)
$1035 + surgery
Contact
Address: Diego Rivera 2386, Zona Urbana Rio Tijuana, Tijuana, BCN 22010
Address: 2534 State Street, Ste 428, San Diego, CA 92101
Phone: 877-218-3516, 877-638-9284, 866-787-7271
Website: tijuanabariatrics.com