Ready 4A Change is a bariatric center that provides bariatric surgeries in Cancun, Tijuana, Guadalajara, and Monterrey. Ready 4A Change was founded in 2003, and claims to have changed over 7,000 lives, with over 10,000 surgeries performed.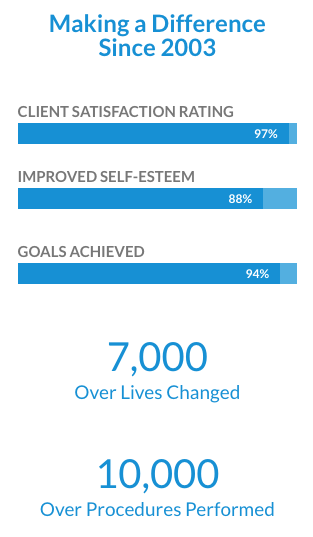 Ready4aChange is a US-based company that is aimed at achieving weight loss goals and provides access to safe and affordable cosmetic and bariatric weight loss surgery in Mexico.  It is one of the longest-running and most reliable bariatric medical tourism company having been founded in 2003, and it offers its services in Tijuana, Monterrey, Guadalajara, Cancun and Puerto Vallarta.  These locations have been carefully selected for security, safety, and convenience in mind and they are meant to accommodate a variety of physical needs and budgets, and each has its advantages and is ideal for individual patients. The Better Business Bureau has given them the Triple-A rating which is the highest possible rating ever for their excellent services, and they have a Medical Tourism Association certification.
Their weight loss surgeries are medically approved, and this allows saying goodbye to obesity, hence having the body you have always wanted. They are also dedicated to healing to achieve a lasting weight loss through the best bariatric surgery procedure, hence help you enjoy a healthier and happy life in the shortest time as possible. The surgeons are well educated, experienced and conscientious with their primary concern being to help people manage obesity. In fact, they are known to have practiced bariatric and weight loss surgery longer than their US counterparts, and they have a pristine record of excellence.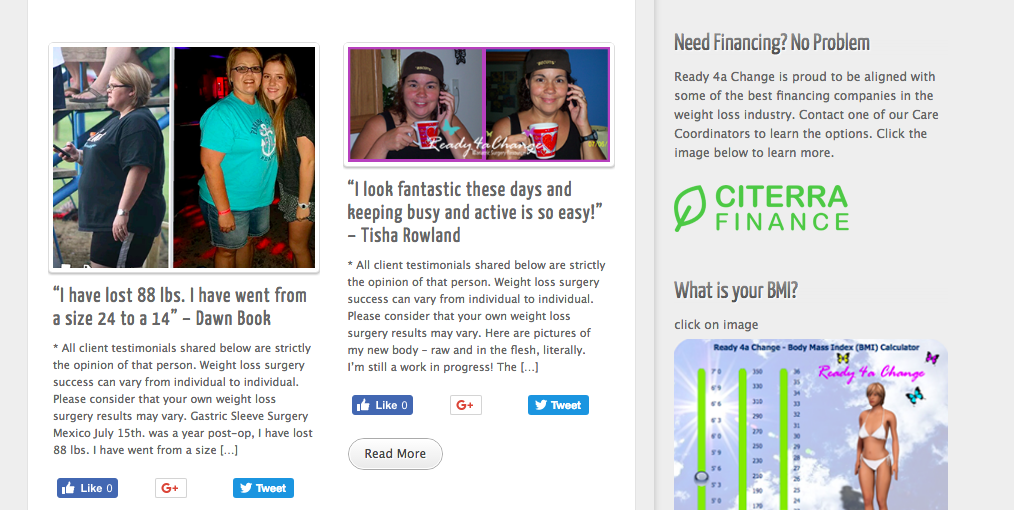 Ready4aChange personnel vets all surgeons, and they visit each doctor in their facilities, review their licensure and training credentials, meet their staff and examine the procedures to ensure that the patients to receive the best weight loss surgery experience ever. The staff will guide you in choosing the best surgeon depending on your desired location or personal budget.
The other employees are 100% committed to making your treatment and stay in Mexico comfortable and pleasant as possible, and this has made the hospital to be ranked as having a  higher experience than any other US hospital. The team is multi-lingual, and they will guide you through the entire process and assist in necessary arrangements from the booking process to health care services coordination. They also have weight loss counsels who will provide the appropriate assessment and support to help patients feel well informed and confident in the decision they make regarding the quality of life and opportunities.
Most insurance companies in the US don't cover for weight loss surgery; hence it becomes expensive for a patient. Ready4aChnage facilitates affordable, high-quality cosmetic and aesthetic surgeries such as Gastric Plication, Vertical Sleeve Gastrectomy, Gastric Bypass, Gastric Lap Band, Mini Gastric Bypass, Weight Loss Revision Surgery, Duodenal Switch, Cosmetic surgery and Cosmetic Dentistry.  Each weight loss surgery procedure has its own cost, and the prize package includes the procedure and the staff involved, hospital stay, the accommodation, ground transportation between hospital, hotel and airport, discharge medication, nutrition information and 24 hour support from Ready4aChange staff in Mexico and U.S.  If you are unable to pay, then they do offer insurance options and medical financing through various partners.
Surgeons
Ready4aChange works with numerous surgeons in their respective cities including:
Costs
Prices: Gastric Sleeve starts at $4,500, Gastric Bypass starts at $6,300, Mini Gastric Bypass starts at $6,300, Duodenal Switch starts at $7,000, Gastric Balloon starts at $3,500, Revisional Surgery pricing varies.
We were not able to find any relevant fees for High BMI, or endoscopic fees.
Contact
Address: 1000 Windcrest Dr SE, New Prague, MN 56071
Phone: 800-270-7120, 952-334-4577
Website: ready4achange.com