Mexicali Bariatric Center is located in Mexicali, Mexico and possess over fourteen years of experience in laparoscopic surgery. Mexicali Bariatric Center claims to have performed over 10,000 surgeries.
Weight Loss Procedures Offered At Mexicali Bariatric Center
Gastric sleeve surgery – This is the most popular weight loss surgery in the entire world, maybe because of its high success rate. The surgeons performing this surgery are well equipped with the knowledge and skills that can help them complete this procedure in a laparoscopic way. Dr. Esquerra and Dr. Wilhemy are very accurate when going for this surgery.
Gastric bypass surgery – Dr. Wilhemy and Dr. Esquerra have perfected this procedure. They have an impeccable technique that limits long-term weight gain. The procedure reduces the ability of the body to absorb calories.
Duodenal switch surgery – This is mainly done by Dr. Esquerra and Dr. Ungson. Dr. Ungson is a renowned bariatric surgeon in Mexico. His skills and techniques make this procedure a complete success. This surgery is both malabsorptive and restrictive.
Revision surgery – This surgery is exclusive to persons who have undergone a weight loss surgery that has caused a decline in the weight they lose. If you fall into this bracket then you are viable for this surgery. Dr. Wilhemy and Dr. Esquerra will do this.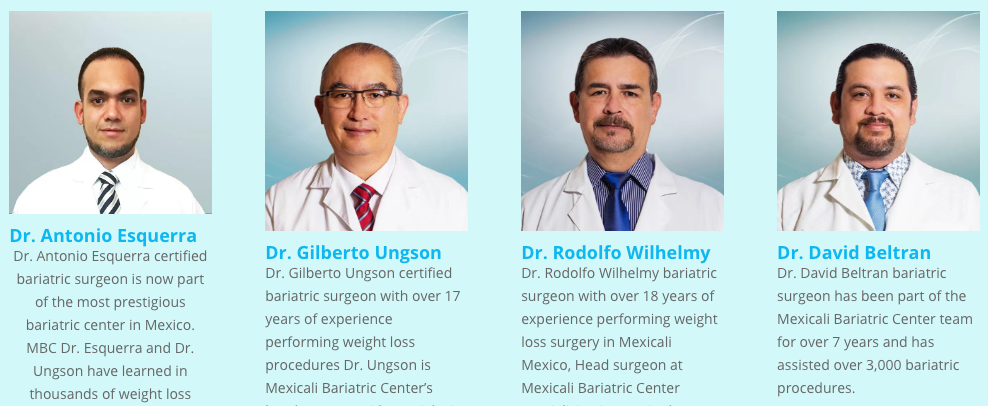 Qualities of the Mexicali Bariatric Center
They have two qualified surgeons who also head the institution. These are Dr. Antonio Esquerra and Dr. Rodolfo Wilhemy. In addition to this, the two have years of experience that has made them perfect their skills and techniques in various weight loss procedures.
The environment of the facility is hygienic and safe, thus reducing any chances of contracting any other diseases prior, during, or after the weight loss surgery.
Their experience reduces the rate of fatalities and discontented patients. The surgeons make sure they meet and exceed the expectations of their patients.
The facility has two more highly qualified and experienced doctors, who are Dr. Gilderto Ungson and Dr. David Beltran
After the procedure, the facility equips their patients with knowledge on various diets that will be beneficial to their health.
The personnel at the facility are welcoming, calm, and accommodative. The staff is responsive and detailed when answering patient questions.
Before the patients undergo any procedure, the doctors evaluate them and guide them on the procedure that would be most beneficial to their circumstance.
After the surgical procedure, the patients are left in the care of very able nurses. Their nurses are highly competent and available at any time until the recovery process is complete.
For patients who do not live in Mexico, the Mexicali Bariatric Center offers an able driver who picks the patients up from the airport and takes them back once the procedure is complete.
For more information, visit their site on http://www.mexicalibariatric.com/ or follow their social media pages on Twitter and Facebook. In addition to this, you could call them on 1-888-344-3916.
Surgeons
Dr. David Beltran
Dr. Edgar Campos
Dr. Andres Gutierrez
Dr. Kenny Lomeli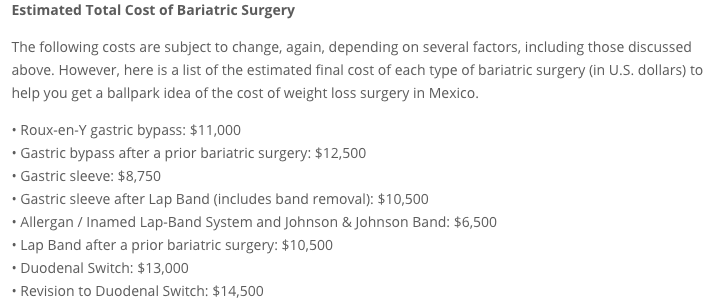 Costs
Prices: Prices are $8,750 for Gastric Sleeve, $11,000 Roux-en-Y Gastric Bypass, $12,500 for Revisional Surgery for Gastric Bypass, $10,500 for Lap-Band to Gastric Sleeve, and $6,500 for Lap-Band.
Note: These costs are found a page dated in 2014, they may not be the accurate pricing as of 1/29/2020.
Contact
Address: Madero 1119-2, Colonia Nueva Mexicali Baja California 21100 Mexico
Phone: 888-344-3916
Website: mexicalibariatric.com