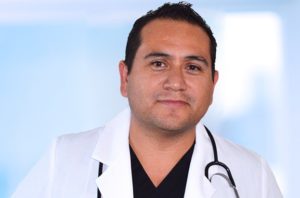 Dr. Eulices Frayre is a surgeon specializing in plastic and bariatric procedures at the "Belletza Medica Spa" where he can offer patients both life-saving weight loss surgeries and appearance changing surgical enhancements. Dr. Eulices Frayre received his medical degree and education from the Centro de Estudios Universitarios Xochicalco Medical School in 2001.

Reviews:
In 2012 he completed a Masters Degree in Cosmetic Surgery from The Institute of Higher Studies in Medicine in Xalapa, Veracruz, Mexico. Some of Dr. Eulices Frayre's cosmetic procedure specialties include Breast Augmentation, Arm Surgery, Cosmetic Dermatology, Cosmetic Surgery, Dermatology, Liposuction, Mommy Makeovers and Nose Surgery. Dr. Eulices Frayre is also board-certified in cosmetic, aesthetic surgery. As a bariatric specialist, Dr. Eulices Frayre received the bulk of his training working alongside the renowned Dr. Jaime Ponce de Leon for 12 years.
The bariatric procedures that Dr. Eulices Frayre is qualified to perform are: Gastric Sleeve, Gastric Bypass, Mini Gastric Bypass, Duodenal Switch, Single Incision Gastric Sleeve, SADI-S surgery, Intragastric Balloon and Revision surgery, Dr. Eulices Frayre is currently the Medical Director of the "Belletza Medica Spa" and strives to provide clients with a comprehensive approach to their overall look that includes both weight loss and aesthetic appearance management.
Dr. Eulices Frayre's former patients' testimonials are further proof of the effective care and dedication he demonstrates towards them as well as the ultimate satisfaction they experience after having their procedures done. One such woman enthusiastically wrote, "Love him….extremely caring…professional…and knowledgeable…I let him take care of both my daughters and then I went back for myself…..would recommend him to anyone I know." Another commented on equal amounts of insight and gratitude, "Dr. Frayre and his team are amazing. They are so caring and personal… Plus, he's had weight loss surgery himself, so he has walked along our journey himself."
Costs:
Pricing: Pricing is not readily available on the website. But their package includes 2 Nights at the Hospital, 1 Night at the Hotel, Medical Fees, Pre & Post Op-Medication,  Ground Transportation.
Contact:
Phone: 619 730 4112
Address:  Misión de San Ignacio 4428, Zona Urbana Rio Tijuana, 22010 Tijuana, B.C., Mexico