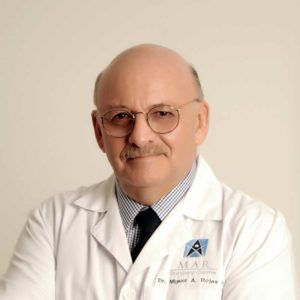 Update February 12th, 2020: Currently, Dr. Miguel Rojas does not look to be marketing for medical tourism patients. Very little is found online, and other information dates back to 2010.
Dr. Miguel Rojas is an esteemed Bariatric and Laparoscopic surgeon with over 23 years of experience performing Gastric Bypass and Gastric Lap-Band procedures for patients seeking weight loss through surgical intervention. Dr. Miguel Rojas operates out of the MAR Surgery Center in Tijuana, Mexico and currently holds the title there of Chief of Surgery. Dr. Miguel Rojas completed his medical degree at the National Autonomous University of Mexico in Mexico City, Mexico.

Dr. Rojas furthered his specialized training through a postgraduate residency at the ISSSTE Hospital in Mexico in General Surgery where he was also Chief Resident. Dr.Miguel Rojas later finished advanced training courses in Bariatric Surgery in Mexico City, Mexico, and Abdomen and Thoracic Laparoscopic Surgery in Tijuana, Mexico. Dr. Rojas is currently a Professor of Surgery and Gastroenterology at the Baja California School of Medicine, UABC University in Mexico and an Honors Professor at the Guadalajara School of Medicine.
Dr. Miguel Rojas is a member of many medical associations including the Medical Association, and the General Surgery Association, the Laparoscopic Surgery Association, the Gastroenterology Association, the Surgery and Trauma Association, the Endoscopic Surgery Association, the Bariatric Surgery Society and finally Dr. Rojas is also a member of the Wound and Healing Society. Dr. Rojas has been professionally certified as a medical doctor by the Surgery National Counsel of Mexico. Dr. Rojas' impressive skills and experience have led him to perform thousands of successful Lap-Band and Gastric Bypass procedures on weight loss management patients in need of decisive and expert medical attention. Dr. Rojas brings not only time spent practicing to his list of credentials, but a compassionate heart and enthusiasm for the work he does and the patients he sees. Those looking for a trusted medical professional to lead them through their weight loss journey should seek out the services of Dr. Miguel Rojas.
Reviews: Not available
Prices: Not available
Contact Information: Not Available