Dr. Rodolfo Natera is a highly skilled and experienced gastrointestinal and bariatric surgeon that has performed over 5,700 laparoscopic surgeries in Ciudad Juarez, Mexico since specializing in bariatric procedures in 1992.
Dr. Rodolfo Natera received his medical degree and education from the Universidad Autónoma de Chihuahua in Mexico. Dr. Rodolfo Natera then went on to pursue intense training in bariatric and laparoscopic procedures including a Diploma in General Surgery and a Diploma in Obesity Surgery at Monterrey, Nuevo Leon, Mexico.

He also participated in Laparoscopic Surgery training at the University of Southern California, completed a Laparoscopic Surgery Training Course in Berlin, Germany and participated in a Laparoscopic Solid Organ Surgery Course from the State University of New York Downstate Medical Center as well.
Thus, Dr. Rodolfo Natera's experience and education are both international and highly focused. In addition to his academic profile, Dr. Rodolfo Natera maintains active memberships in the following professional organizations: the Mexican Obesity Surgery Association, the Mexican Obesity Society ( as a founding member), the Mexican Association of Endoscopic Surgeons. (Participated in the Congress of the Mexican Association of Endoscopic Surgeons), the General Surgery Mexican Association, the Mexican Gastroenterology Association and the Society of American Gastrointestinal and Endoscopic Surgeons or "SAGES."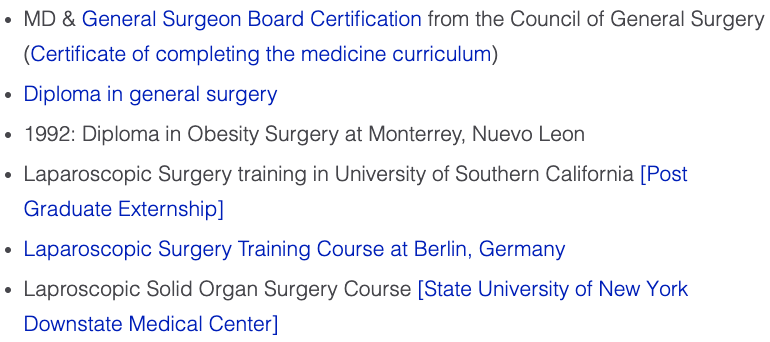 Dr. Rodolfo Natera and his team perform their surgeries at Mexico's Star Medica Hospital, and they offer patients the following laparoscopic bariatric procedures: Bariatric Lap-Band, Gastric Sleeve, Gastric Bypass, Intra Gastric Balloon, Gall Bladder, Antireflux, Metabolic surgery and Hernia Repair. Dr. Rodolfo Natera and his staff are dedicated to providing their patients with safe, comprehensive and successful outcomes on their weight loss journey as well as addressing any gastrointestinal conditions they might be dealing with.
Reviews
We were not able to find any reviews on Dr. Natera.  Dr. Rodolfo Natera's mission statement reverberates with the bright promise, "Because Everyone Can Live Well…"
Costs
Although, we  couldn't find costs on Dr. Natera. We've found a pricing for Gastric Sleeve, starting at $4,900 USD. Additional costs include $75 per night.
Contact
Gastro Obesity Center – Chihuahua , Mexico (No Known Address)